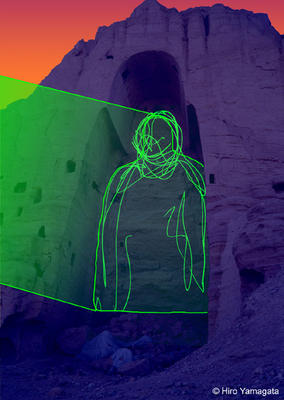 Six months before radical islamists affiliated with Afghanistan's Taliban got our attention on September 11, 2001, they outraged the world by blasting 1600-year old Buddha statues off the face of the Bamiyan Valley cliffs. Now California-based artist
Hiro Yamagata
has plans to put them back.
At the request of Afghanistan's government, he'll install a permanent laser projection system in the valley to
superimpose 140 faceless, overlapping Buddhas
. To be completed by June 2007, the project will utilize 14 laser projectors powered by windmills and solar panels to create the nearly 200-foot tall images. While Yamagato says "
I'm doing a fine art piece
. That's my purpose - not for human rights, or for supporting religion or a political statement," the medium of light, a theme in most major religions, seems perfect for illustrating the ethereal and ultimately indestructible nature of what underlies not only Buddhism but most spiritual traditions.